Emergency
Phone: (620) 343-6800 ext. 21010
Fax: (620) 341-7845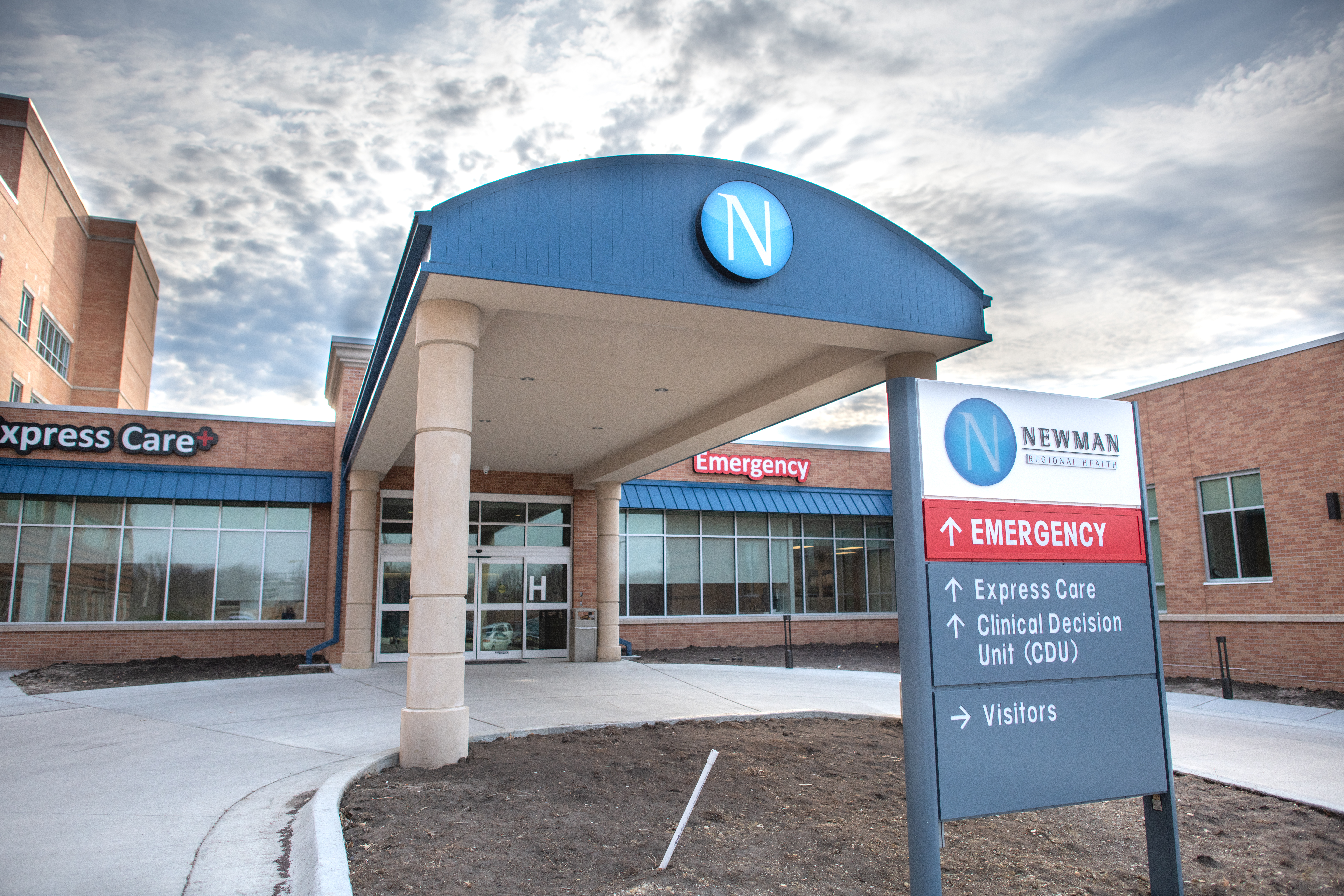 The Emergency Department at Newman Regional Health in Emporia, Kansas is open to treat patients 24-hours a day, every day. We offer a complete range of services for all types of emergencies. Our Emergency Department team consists of in-house physicians, physician assistants, and advanced practice providers specializing in emergency medicine, trauma care, advanced cardiac life support, and pediatric life support techniques.
Our average wait time to see a provider is 16 minutes, compared to a national average of 58.1 minutes (as reported by the CDC). There is a physician on duty 24-hours a day, every day of the year, to meet the needs of the Emporia, Kansas area community.
When to visit the Emergency Room:
Illness, injury, symptom or condition so serious that a reasonable person would seek care right away to avoid severe harm.
Chest pain or pressure
Weakness/numbness on one side
Slurred speech
Difficulty breathing
Fainting/change in mental state
Serious burns
Head or eye injury
Concussion/confusion
Seizures
Facial lacerations
Severe cuts that may require stitches
Broken bones and dislocated joins
Severe cold or flu symptoms
Vaginal bleeding with pregnancy
Unbearable pain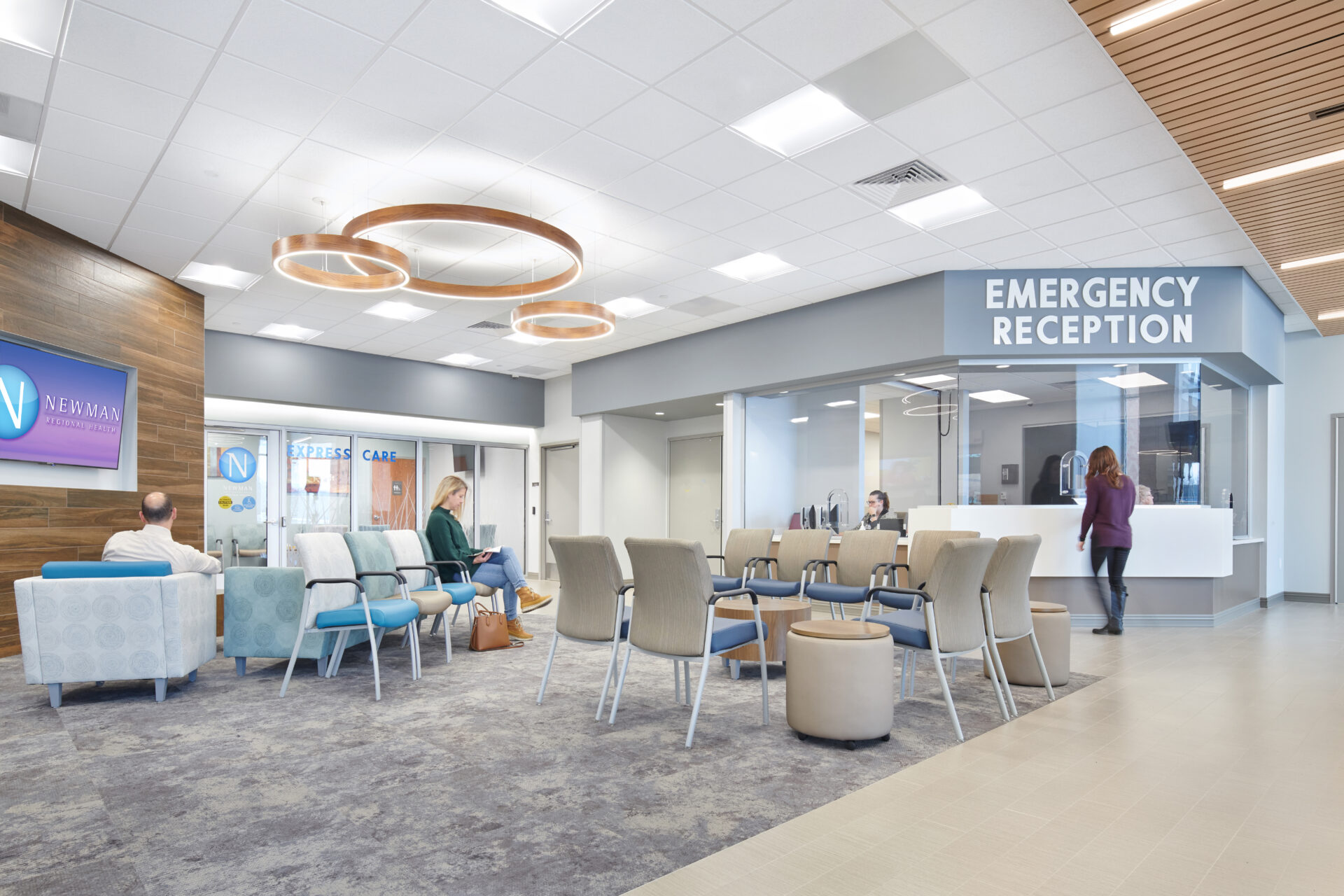 When to visit Express Care: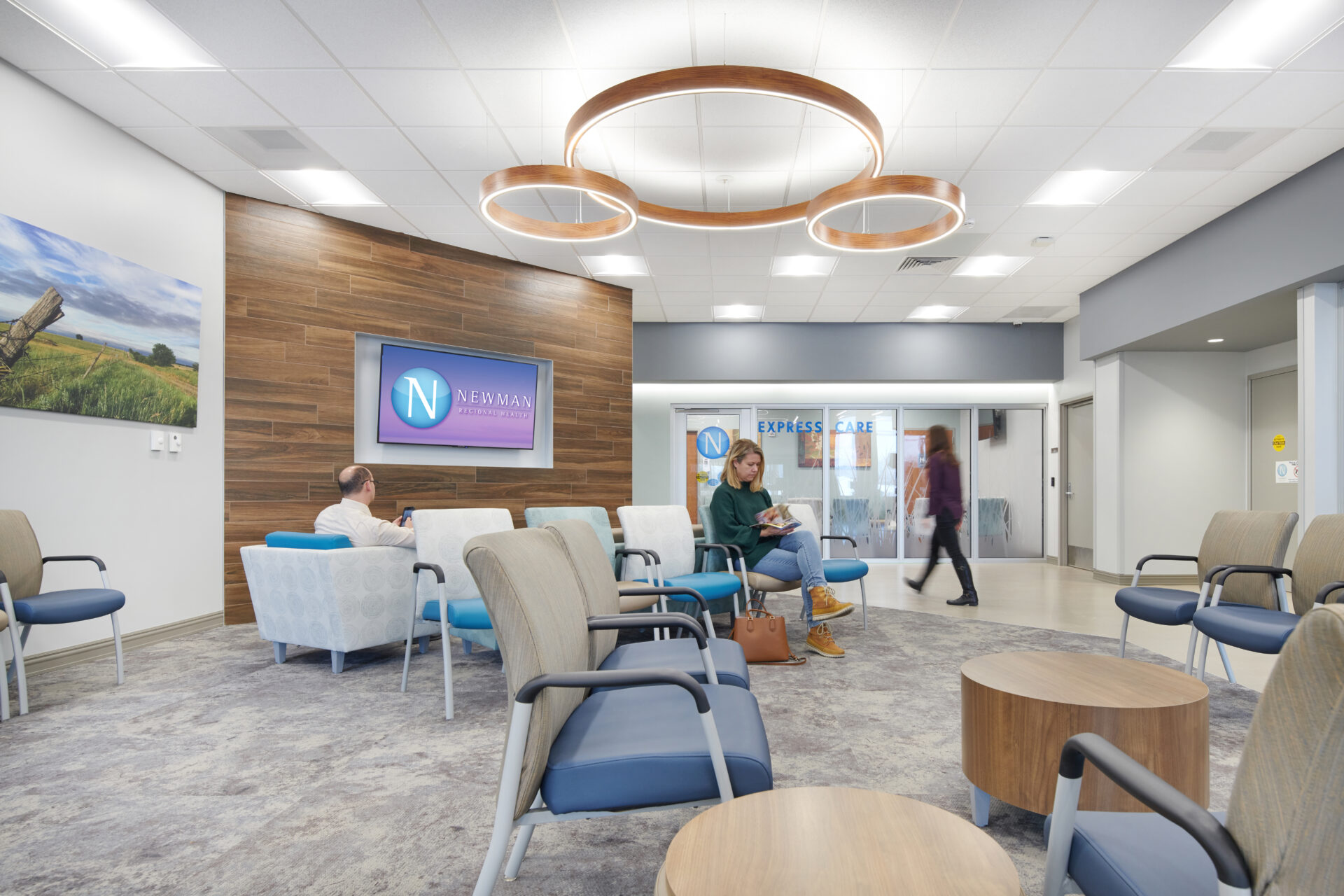 Newman Regional Health Medical Partners Express Care provides fast, convenient care for non-emergency illnesses and injuries for Emporia, Kansas and the surrounding communities. Located on-site at Newman Regional Health, Express Care is open seven days a week and no appointment is necessary.
Monday – Friday: 1 pm – 9 pm; weekends and holidays: 10 am – 6 pm (closed on Thanksgiving and Christmas)
Fever
Earache
Vomiting
Diarrhea
Animal & insect bites
Rash or skin irritation
Coughs, colds & sore throats
Sprains or strains
Mild asthma
Mild Burns
Urinary tract infections
Ear, nose & throat infections
Minor cuts that may require stitches
Physicals for sports or school
More information on Newman Regional Health Medical Partners Express Care – Click HERE
Clinical Decision Unit
The CDU is a special observation unit within the Emergency Services Department at Newman Regional Health that provides special attention to patients with chest pain, suspected myocardial infarction (heart attack), stroke, Transient Ischemic Attacks (TIA – Stroke-like symptoms that resolve themselves), gastrointestinal disorders and more. The unit also provides care for patients that are too sick to be safely discharged home.
Critical Care Transport
Depending upon several factors during the treatment of a patient when it becomes necessary to transport the patient for specialized medical care, Newman Regional Health relies on partners with Lyon County EMS and LifeSave Transport to provide critical care transport.
These critical care transport teams are comprised of highly trained and dedicated crews that safely and quickly provide patients the transport medicine necessary.
Sexual Assault Nurse Examiners
A team of Sexual Assault Nurse Examiners (SANE) are available 24-hours a day, every day, to examine adult and child sexual assault victims and collect forensic evidence. They are part of the area Sexual Assault Response Team (SART).
Meet the ER Providers
Dr. Aaron Watters, ED Medical Director
Dr. James Seberger
Dr. Charles Coffey
Dr. Christopher Jarvis
Dr. Richard Watson
Andrew Kneib, PA
Julie Weakley, APRN
Hospice Care
Hand in Hand Hospice Newman Regional Health
Phone: (620) 340-6177 or (800) 334-6215
Fax: (620) 340-6178
Providing Hospice Care in Emporia, Kansas since 1983
Hospice is a philosophy of care that provides holistic services for the physical, emotional, and spiritual needs of patients with life-limiting illnesses and their families. Hospice services are most often provided in a patient's own home, assisted living facility, or nursing home.
The goal of hospice is not to cure illness or hasten death, but to help patients achieve the highest quality of life possible. By placing an emphasis on quality of life and providing expert symptom management, hospice care allows patients to spend time focusing on the things that are the most important and meaningful to them.
Serving the residents of Lyon, Coffey, Greenwood, Morris, Osage and Chase Counties since 1983, the staff at Hand in Hand Hospice, has more than 85 years of combined expertise.
Hand in Hand Hospice offers patients and their families a variety of services including:
Nursing care
Medical care
Bereavement Support
Bathing & Personal Care Assistance
To learn more, please visit www.hihhospice.org.
Infusion Clinic
Phone: (620) 343-6800, ext. 23349
Fax: (620) 341-7866
To Schedule an Appointment:
Newman Regional Health Centralized Scheduling at (620) 343-6800 ext. 21167.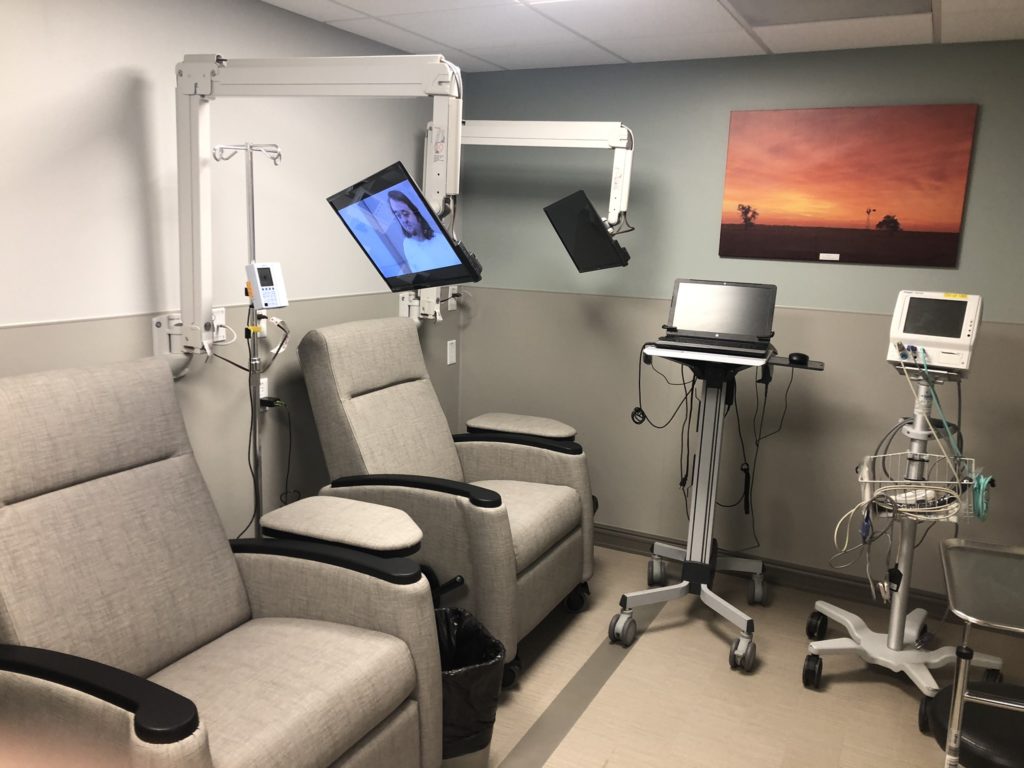 What is Infusion Therapy?
Typically, "infusion therapy" means that a drug is administered intravenously or through other non-oral routes, such as intramuscular injections and epidural routes.
Prescription drug therapies commonly administered via infusion include antibiotic, antifungal, antiviral, hydration, pain management and parenteral nutrition. Infusion therapy is also for chronic and sometimes rare diseases.
About the Clinic
Patients receive injectable medications, intravenous (IV) medication therapy such as antibiotics, disease-specific medications, immunologic agents, as well as blood transfusions in our modern outpatient infusion clinic.
We offer patients a comfortable home-like atmosphere to relax in while they receive their infusion. Every infusion chair has a television to help pass the time during treatment.
Our nurses are trained to provide a variety of infusion services to patients. They are highly skilled in IV placement, have strong assessment skills and are extremely effective in crisis intervention. Most patients require intensive supervision and management due to the risks for infusion reactions. All of our nurses are experienced in infusion therapy.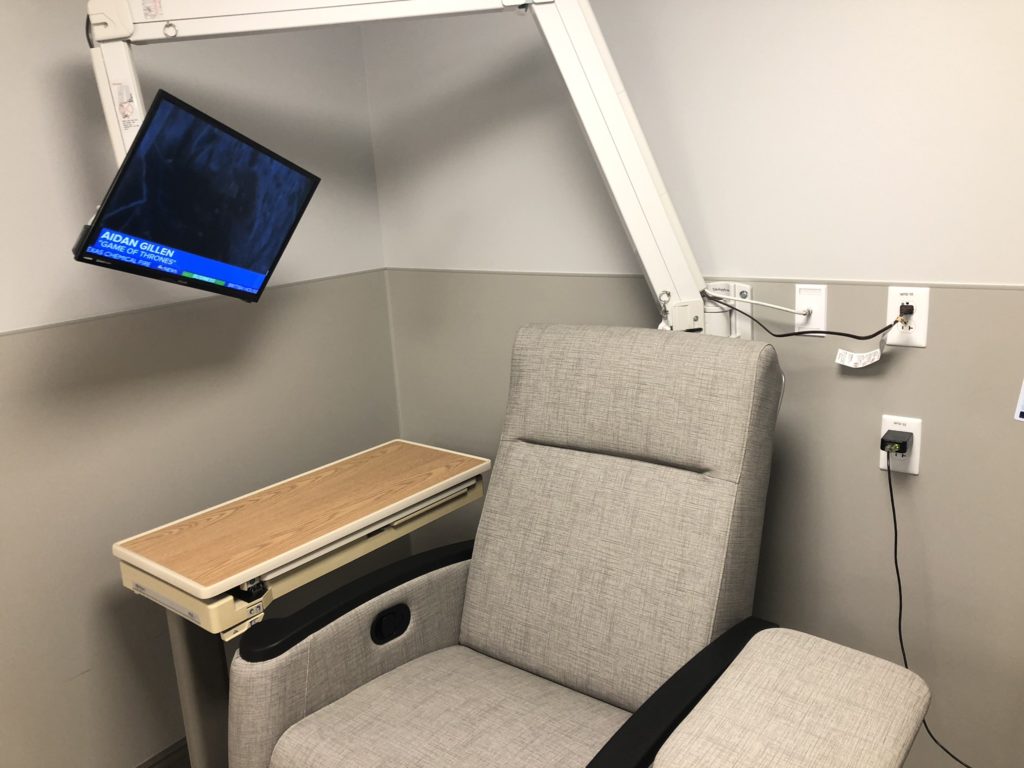 Registered Nurses (RNs) administer non-chemotherapeutic infusions and testing according to practice guidelines.
As an outpatient facility, our nurses work delivering direct patient care and providing patient and family education.
The Infusion clinic is located on the 1st floor of Newman Regional Health, accessible from both entrance C (main entrance) and F (1201 12th St) entrance.
Hours of Care:
Monday through Friday, 8:00 am – 5:00 pm, for the administration of injectables and/or medication infusions.  
Saturday and Sunday, 8:00 am – 12:00 pm, will be reserved strictly for patients needing daily antibiotic infusions and wound care.
For more information and to schedule an appointment, please contact Newman Regional Health Centralized Scheduling at (620) 343-6800 ext. 1167.
Inpatient Medical Rehabilitation
Some of the graduates of the inpatient medical rehabilitation program at Newman Regional Health
Intensive Care Unit
Phone: (620) 343-6800, ext. 23506
Fax: (620) 341-7807
Click Here to download the brochure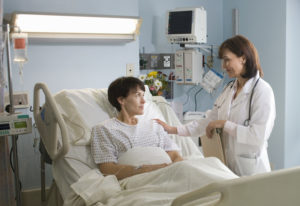 24/7 Support for Medical and Surgical Patients
Newman Regional Health's six-bed Intensive Care Unit (ICU) is fully equipped with state-of-the-art technology for the monitoring and care of patients.
The caring and highly trained nursing staff of the ICU provides specialized care for adult patients that are in critical need of 24/7 attention as they recover from a wide range of acute conditions.
A few of the advanced care services that are conducted in the ICU include:
Coronary care
Advance cardiac life support
Monitoring heart rhythms through cardiac monitoring (telemetry)
Management of critical medication
Administration of treatments such as IV Insulin, IV cardiac medications, and medications used for sedation
Provide care for patients on ventilators
Monitor and care for heart attack patients
Monitor and care of cardiac catheterization lab patients
Care for patients awaiting permanent pacemaker placement
Care for patients with Sepsis
Care for Diabetic crisis patients including those suffering with Diabetic Ketoacidosis
Provides close monitoring of vital signs and lab values that assist providers in treatment selection
Post-anesthesia recovery
Hemodynamic monitoring
A Special Word to Families
You are an important member of the health care team! You may feel overwhelmed and frightened, but there are positive ways you can help yourself and the patient you love. Your role as a member of the health care team is to provide emotional support to the patient through your visits.
A waiting room next to the ICU especially for families of ICU patients is provided. There is a computer with games and internet access in the ICU waiting room for family members to use.
You are invited to eat in the Snack Bar or the hospital's cafeteria, Newman Café. Both locations are on the ground floor near the East Entrance. For hours that each location is open, please read the signs that are posted by either the Snack Bar or Neman Café entrance. A vending area with food and drinks is located next to the Emergency Department.
Many local hotels offer discount rate for family members of hospitalized patients.
Family Visiting Suggestions
The ICU has open visiting hours at the discretion of the nurse. Immediate family members or significant others can come at any time to check on the patient and spend time with him or her.
The critical care nurse taking care of your family member will work closely with both you and the patient to ensure a quality visit. Keeping in mind the best interest of the patient, we would make these suggestions to help you optimize your visits:
Feel free to check to see if the patient is resting. Please do not enter the room if the patient appears to be sleeping as this can rouse the patient from a light sleep.
Sit with the patient at intervals if this seems to be soothing to the patient.
Keep in mind the need for the patient to rest. Mealtimes can be a good time for a conversational visit.
Fresh flowers are not permitted in the room.
Patient assessment times are: midnight, 4 a.m., 8 a.m., noon, 4 p.m., and 8 p.m. Our assessments are usually completed in the 30 minutes before or after these times. This may be a good time for you to take a break and rest. We are concerned about your health also.
Please limit the number of immediate family visitors to two in the room at a time.
The nurse will contact you if there are any changes in your family member's condition or if he or she requests that you be called. Please be sure to leave phone numbers with the nurse where you or other family can be reached when you are away from the hospital.
Feel free to call the ICU nurse's desk at any time if you have concerns. If you have a large family, it is best to provide a spokesperson to communicate with the nurse. By only giving information once, the nurse can spend more time with each patient.
Smoking Policy: Newman Regional Health has joined hospitals across Kansas in an effort to be tobacco-free. As a health care organization, we are committed to the health and safety of our employees and patients. For this reason, tobacco use of any kind is not permitted – inside or outside – on hospital property.
Nighttime suggestions: We try to allow uninterrupted sleep periods of 2-3 hours when at all possible. If your family member is sleeping, this may be a time when you would want to go home to rest or sleep in the family waiting room. Lights go down at 9 p.m., and patients are encouraged to rest or sleep from this time on.
Orthopedics & Sports Medicine
Phone: (620) 340-6181
Fax: (620) 340-6182
Monday thru Friday
8:00am – 12:00pm
1:00pm – 4:30pm
OrthoKansas has joined the Newman Regional Health Medical Partners Orthopedics & Sports Medicine clinic to provide Lyon County and surrounding area residents a new choice when it comes to their orthopedic care.
Read more
Orthopedics and Sports Medicine helps keep you moving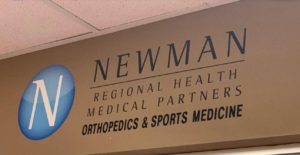 At Newman Regional Health Medical Partners, our orthopedic doctors specialize in the diagnostic, medical, surgical, and rehabilitative treatment of bones, muscles, joints, ligaments, tendons, and nerves for adults and children. They treat a variety of orthopedic conditions and injuries utilizing cutting-edge surgical procedures and non-surgical techniques to ensure the best outcomes for your condition.
From sprains and strains to torn ligaments and joint replacements, our physicians, nurses, and staff will provide you with timely and compassionate personalized care.
Whether you're a weekend warrior, a full-time athlete, or you just enjoy being active, the orthopedic specialists at Newman Regional Health Medical Partners in Emporia, Kansas can help you and your family with all your orthopedic needs. With our wide range of skills and services, including injury prevention, treatment, surgery, and rehabilitation, you can count on us to keep you moving.
We perform a comprehensive range of orthopedic treatments and surgical procedures for people with hip and knee pain, shoulder injuries, hand and wrist conditions, and some foot/ankle problems.
Common Orthopedics and Sports Medicine conditions and treatments include:
Total joint replacement

Hip, Knee
Shoulder, Elbow
Thumb, Finger

Fracture management
Sports medicine
Cartilage/meniscal transplant
Arthroscopic repair
Ligament and tendon repairs and reconstruction
Anterior cruciate ligament / ACL (knee) repair
Rotator cuff (shoulder) repair
Reverse total shoulder surgery
Elbow, wrist, ankle conditions
Ganglion cysts
Hand surgery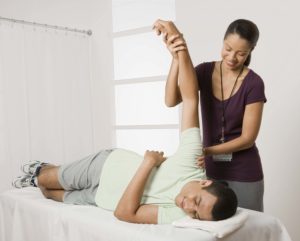 Sports Medicine
Sports Medicine has a primary focus on sports related medical services with the treatment and prevention of injuries related to sports and exercise. Newman Regional Health Sports Medicine Specialists help patients maximize function and minimize disability in order for patients to become fully active in sports, work, school, and daily activities. Although Sports Medicine seems to be specific to athletes, anyone can suffer from a musculoskeletal or non-musculoskeletal condition that requires treatment from a Sports Medicine Specialist in order to help with exercise and activity.
Examples of conditions treated by sports medicine include, but are not limited to, the following:
Concussion and other head injuries
Chronic or acute illness
Exercise prescription
Injury prevention
Recommendations for strength training and conditioning
Healthy lifestyle education
Orthopedics
Orthopedics is a medical specialty practice that focuses on injuries and diseases of the body's musculoskeletal system. This system includes bones, joints, ligaments, tendons, muscles, and nerves. Newman Regional Health Orthopedics is committed to the overall health of this complex system for their patients.
Our Orthopedic Specialists manage specific problems of the musculoskeletal system, which includes:
Diagnosis of your injury or disorder
Treatment with medication, exercise, surgery, or other treatment plans
Rehabilitation with exercises and physical therapy to restore movement, flexibility, strength, and overall function
Prevention with education, information, and treatment to prevent injury and/or slow the progression of diseases
Our providers and practitioners are dedicated to providing you with quality, compassionate care for the full spectrum of orthopedic and sports-related conditions and injuries. From nonsurgical treatments to surgical services, our orthopedic providers are among the most respected in Lyon County, Kansas.
Meet the Orthopedics & Sports Medicine Providers