Sleep Disorders Center
Our Accredited Sleep Disorders Center Offers Diagnostic Sleep Studies
Sleep is vital to good health – sleep is an active state important for renewing our mental and physical health each day! If you, or a loved one are having sleep related issues, our staff at Newman Regional Health Sleep Disorders Center is here to help to ensure you have a good quality night of sleep!
Newman Regional Health Sleep Disorders Center is 2-bed sleep facility accredited by the American Academy of Sleep Medicine (AASM). We provide in-center (overnight or day) sleep testing (polysomnogram – PSG) diagnostic & titration studies. The center is fully-equipped with a home-like private bedroom to monitor patients during sleep. A caring, trained sleep technologist monitors the patient during the study after which a physician analyzes the results, patient history, and lab tests to make a diagnosis and formulate a treatment plan.
Home Sleep Apnea Testing (HSAT)
In addition to our in-center sleep testing, we also offer Home Sleep Apnea Testing (HSAT) for those patients who qualify. With an HSAT, you are sleeping in the comfort of your own home. Not everyone qualifies for a HSAT—the patient for whom an HSAT would be appropriate is a patient with a high pre-test probability of moderate to severe Obstructive Sleep Apnea (OSA) and who does not have other significant health issues which would be better evaluated through in-center testing. An HSAT is somewhat less reliable for diagnosing a mild disorder. Your health care provider will tell you if an HSAT is appropriate for you.
Our sleep specialists identify and treat sleep disorders.
One such common disorder, sleep apnea is a potentially life-threatening breathing problem that occurs during sleep.
It is estimated there are approximately 22 million adults who suffer from sleep apnea, but even more shocking is that 89% are undiagnosed.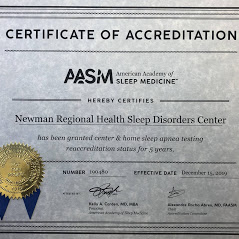 Meet the Provider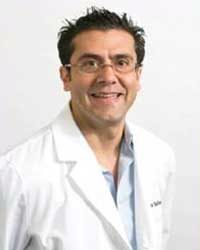 Sleep Apnea
Sleep Apnea is a breathing disorder which causes the patient to repeatedly stop breathing (apnea) or to have very shallow breathing, for ten seconds or longer; these pauses may occur as many as 20-30 times or more per hour! When healthy sleep is interrupted by these pauses, it puts a strain on the heart; Sleep Apnea can prevent oxygen from getting to the brain and body. This lack of oxygen not only interrupts a person's sleep, but it also affects the entire body. Not getting enough oxygen night after night can lead to high blood pressure, irregular heartbeat, heart attacks or stroke – there are studies ongoing to research the impact on the brain.
There are three kinds of sleep apnea: Obstructive Sleep Apnea which is caused by a blocked or collapsed airway; Central Sleep Apnea which is when the part of the brain that controls breathing does not send the correct signals to the muscles that control breathing; and Mixed Sleep Apnea which is a combination of obstructive and central sleep apnea.
Of the three kinds of sleep apnea, the most common cause of sleep apnea is OSA; an obstruction or collapse of the airway; throat muscles are abnormally relaxed, tongue and tonsils are larger than normal, being overweight, or airway is smaller than normal.
If you have sleep apnea and it is not treated, or not treated properly, you are at risk for:
high blood pressure
irregular heart rhythms or heart disease
heart attack
stroke
pre-diabetes and diabetes
depression
increased likelihood of driving or work-related accidents
Untreated sleep apnea causes physical and emotional stress on the body, and ultimately can lead to death. Long-term cardiovascular complications of untreated OSA can put you at risk of daytime sleepiness, depression, irregular sleep cycles, and poor sleep quality.
Treating OSA helps the management of the other medical conditions you might have, including metabolic or cardiac issues. Sleep apnea is very common in people with atrial fibrillation (a quivering or irregular heartbeat) that can lead to blood clots, stroke, heart failure and other heart related complications.
How do you know if you have sleep apnea? Signs or symptoms include:
loud or disruptive snoring
excessive daytime sleepiness
hypertension
choking or gasping while you sleep
morning headaches
trouble staying asleep
trouble concentrating
irritability
forgetfulness
unexplained sleepiness
mood swings
personality changes
feelings of depression
waking up often during the night to use the restroom
dry mouth and sore throat.
Who is at risk for OSA? You are at an increased risk if you are overweight, have high blood pressure, male with a neck size of 17 inches or more, female with a neck size of 16 inches or more, male over the age of 40, or a female over the age of 50.
Our Sleep Specialist, Dr. Victor Salloum, MD, Pulmonary Disease Physician and Board Certified Sleep Specialist, sees patients at Newman Regional Health Specialty Clinic.
Sleep Studies can be scheduled Mondays, Tuesdays, or Wednesdays (days may vary – we do like to accommodate special circumstances if possible), with flexible hours available for shift workers. Our sleep professionals are ready to help you get a good night's rest! For information on a sleep study or the Newman Regional Health Sleep Disorders Center, call 620-341-7722 or email us at sleepdisorders@newmanrh.org
Newman Medical Equipment sells the durable medical equipment and supplies you need in the home and community. Their medical equipment specialists will obtain the items you need and make special orders, if necessary. They carry CPAP and BiPAP machines, supplies, hoses and masks.