Newman Regional Health COVID-19 Tests
Provider ordered Covid-19 Tests
COVID-19 testing continues to require a healthcare provider's order and are only completed based on medical necessity, including pre-operative screening tests.
Patients inquiring about COVID-19 testing are advised to call their provider's office, call (620) 343 – 6801 or visit Newman Regional Health Medical Partners Express Care during hours of operation, or the Emergency Department for emergent care.
Domestic travel Covid-19 Tests
COVID-19 Tests for domestic travel are performed at the Newman Regional Health Outpatient Laboratory, Monday -Friday 8:00AM – 4:30PM
Please call (620) 343-6801 to schedule an appointment.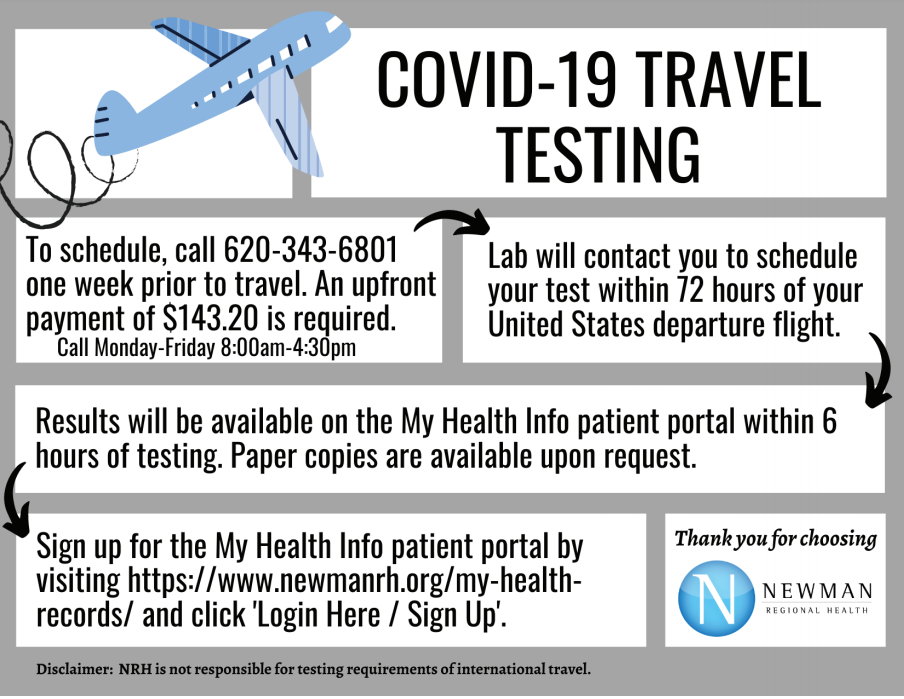 The Kansas Department of Health and Environment travel Covid-19 tests and travel quarantine list
AUGUST 15, 2021, KDHE has updated the current list of quarantine locations and travel times:
Traveled on or after Aug. 13 to Louisiana.
Traveled on or after July 29 to Isle of Man or Martinique.
Traveled on or after July 15 to Fiji.
Traveled between July 29 – Aug. 13 to Botswana, Cuba or Gibraltar.
Traveled between July 15 – Aug. 13 to British Virgin Islands, Cyprus, Jersey or The United Kingdom.
Attendance at any out-of-state or in-state mass gatherings of 500 or more where individuals do not socially distance (6 feet) and wear a mask.
Been on a cruise ship or river cruise on or after March 15, 2020.
KDHE has also revised its mass gathering policy to include any event of at least 500 people where people do not wear masks or use social distancing policies, regardless of location. This guideline had involved out-of-state gatherings previously.
KDHE's guidance included one big change dealing with international travel, and especially travel into the United States. The Centers for Disease Control and Prevention now requires COVID-19 tests within three days of flights into the US.
Other aspects of KDHE's quarantine policy remain unchanged. For the unvaccinated or partially vaccinated, the quarantine period is seven days with a negative COVID test or 10 days with no test.
People who are fully vaccinated and are two weeks beyond their final dose can travel without quarantining afterward if they are within six months of getting their final dose and stay asymptomatic after traveling.
People who have recovered from COVID-19 can travel without quarantine if they are within six months after their infection, have documented evidence of their infection and have remained asymptomatic after travel.