Obtain your electronic health records here for Newman Regional Health, Newman Regional Health Medical Partners, and Newman Regional Health Medical Partners Express Care.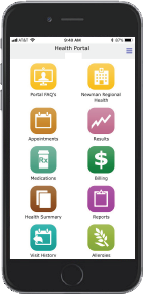 To sign up for a My Health Info patient portal account, please click HERE
Introducing the MHealth app for smartphone users – allowing health records to become more convenient and accessible for patients than ever before. Click HERE for instructions on how to download and install the MHealth app on your smartphone or tablet.
My Health Info is an interactive web portal that empowers Newman Regional Health patients and their families to take a more active role in their care by providing easy, secure access to health information via the internet. All of the information in My Health Info comes from Newman Regional Health's Electronic Health Record which ensures that you have access to the most accurate, up-to-date information.
Download the brochure on Newman Regional Health's My Health Info,  click HERE.
My Health Info provides patients with access to their laboratory results, recorded home medications, allergies, visit history, upcoming appointment lists, demographic information, as well as much more. In addition to managing their own care, persons with authorized consent have the ability to access the records of those individuals for whom they provide care. Please note: if you wish to gain access (Proxy) to another patient's information, you will be required to complete the Proxy access form and present it in person to Newman Regional Health's Health Information Management department. Photo ID will need to be provided before access will be granted.
High Contrast Theme – Please click HERE to access the WCAG Compliant Portal
*Please note: In order to enroll in My Health Info we need to have your email address on file in your Electronic Medical Record. You can update your email address in person with our Registration staff when you are registering for a hospital visit. Otherwise, this will need to be done with the Health Information Management department at Newman Regional Health during business hours Monday-Friday from 8:00 a.m.- 4:30 p.m. You will be required to present photo ID.*