About Us
About Newman Regional Health
About Newman Regional Health
For nearly 100 years, Newman Regional Health has continuously expanded and added new healthcare services to meet the needs of our community. Partnering with our medical staff, we continue to exceed state and national goals for clinical excellence and patient safety.
Newman Regional Health is a not-for-profit 25-bed critical access hospital, owned by the citizens of Lyon County Kansas.  Our 7-bed acute inpatient medical rehabilitation unit offers patients the opportunity to recover from serious illness, injury or debility close to home, after treatment at Newman Regional Health or after returning from more distant facilities.
In 2019 our state-of-the-art, 19-bed emergency room, 10-bed Clinical Decision Unit, and 4-room express care clinic opened on our campus to better serve the patients of Lyon County, Kansas and surrounding communities 24 hours per day.
More than 70 specialty and primary care physicians and advanced practice providers work in our hospital and outpatient clinic to provide better access to a wider range of diagnostic, therapeutic and surgical services than any other critical access hospital in the state of Kansas.    
600 clinical, professional and support services employees and 225 volunteers support our medical staff in fulfilling our mission "to improve health in our community by providing high-quality care".
Ranked among the Top 70 Critical Access Hospitals in the United States for 5 consecutive years and among the Top 10 Hospitals of any size in Kansas, Newman Regional Health is proud to call Emporia Kansas our home.
About Emporia
Located in the heart of the famous Bluestem Region, Emporia, Kansas is known as the Front Porch to the Flint Hills. Open prairie stretches for miles with its tall grass prairie and peaceful rolling hills.
As the official founding city of Veteran's Day, Emporia is also home to the National Teachers Hall of Fame, Granada Theater, Emporia Arts Council, and William Allen White, nationally known writer and journalist. Emporia State University serves 6,500 students in nationally recognized undergraduate and graduate degree programs.
Our History
"They saw the best equipped hospital in the West. They saw a beautiful building architecturally, and they saw an interior decorated with taste, altogether a thing of beauty that shall be a joy forever." – Emporia Gazette, March 6, 1922, on the open house.
Since 1922, Newman Regional Health has been a vital part of healthcare for a seven county area surrounding Emporia, Kansas. The Emporia Gazette used the Winston Churchill quote, "We live not by what we have, but by what we give," on March 5, 1922 to describe George Newman's generous contribution.
The original 81-bed hospital was built largely as the result of a $50,000 bequest left by Mr. George Newman, a local businessman. Additional funds were raised with a two-year tax levy, and the hospital opened on March 6, 1922. The hospital is named in honor of both Mr. Newman and the county.
Since the hospital opened, there has been a nursing school, currently the Emporia State University Newman Division of Nursing, located on the east side of the hospital campus.
Planning for better facilities and community service included the additions of the:
East Wing, 1951
West Wing, 1963
South Wing, 1980
5.9 million dollar renovation of the first floor, 1996
Newman Medical Plaza, 1996
A connector building between the Newman Medical Plaza and the hospital, 2002
Same Day Surgery Unit and Registration Area, 2002
The Central Care Cancer Center, 2003
Standardized color-coded ID wrist band alerting all staff to various patient precautions, 2008
Breast Care Center, 2012
W.S. & E.C. Jones Cardiovascular Lab, 2013
Working with other healthcare providers, the hospital will continue to be a leader in improving the health of our community.
Our Mission, Vision and Values
Our Mission
To improve health in our communities by providing high quality care.
Our Vision
To be a valued, trusted partner and regional provider of exemplary services.
Our Values
We dedicate ourselves to continuous improvement of quality throughout our organization. We are committed to delivering a range of comprehensive services offering timely access and convenience.

We pride ourselves in delivering compassionate inpatient and outpatient care.

We recognize the contribution of all and foster an atmosphere of trust and collaboration.

We value growth within our organization to meet the specific changing needs of our community.

We honor the communities' trust by using resources wisely and having an unwavering commitment to financial integrity.
Strategic Initiatives
Growth / Community Relations

To deliver comprehensive healthcare services to Lyon County and the surrounding area, and to effectively partner with the community to improve the health of the region.

Medical Staff Development

To provide opportunities to expand the medical community through an integrated delivery model.

Finance / Facility and Technology

To achieve "meaningful use" in collaboration with the healthcare community.

Service / Quality / Safety

To publicly commit to measurable quality improvement.

To deliver care in a coordinated, collaborative environment where all members of the healthcare team feel that they contribute to the whole patient experience as well as the organization's success.
Visiting Hours & Guidelines
Patient Rooms
2 pm – 4 pm
7 pm – 8:30 pm
Pediatrics
Since pediatric patients are often contagious, we encourage only adults to visit these patients, unless arrangements are made with the charge nurse.
Intensive Care Unit
Open visiting hours are at the discretion of the nurse in the intensive care unit. Immediate family members or significant others can feel free to come at any time.
Women's Life Center
Open visiting hours are at the mother's discretion for visitors over the age of 12. For those under 12 years of age, visitation is limited to brothers and sisters of the new baby.
Patient Pricing Information
Patient Accounts Department
Contact: 620-343-6800 extension 1153
Understanding pricing and charges
Newman Regional Health understands that hospital pricing and charges can be complex and difficult to understand. With many different factors influencing pricing and charges, we are committed to providing patients and family members information to help understand hospital charges.
Federal law requires hospitals to charge the same amount for the same service or supply provided to each patient as a condition of participation in the federal Medicare program.
To view our Chargemaster, please click here.
What a patient owes for a hospital procedure or service can vary greatly, depending on health insurance coverage, eligibility for state or federal programs, and each individual's own personal situation. Scroll down to your specific coverage description. Newman Regional Health does apply a 20% discount to uninsured patients off of our Chargemaster.
Financial Assistance, partial payments, uninsured
There are a variety of financial assistance options available that may help pay all or a portion of your hospital charges.
Please call 620-343-6800 extension 1153 and speak with a financial counselor to discuss the options that may apply to your personal situation.
In order to apply for Charitable Care from Newman Regional Health, please download and complete the proper form below and contact one of our financial counselors to review your case:
ENGLISH Form – Download PDF
SPANISH Form – Download PDF
Understanding out of pocket costs
The financial counselors at Newman Regional Health can help you estimate your healthcare costs that will take into consideration various discounts, deductibles, co-pays and other factors.  Estimating total expense  is a complex task and may be required for different procedures, visits, tests, and treatments.
If you are covered by Medicare, Medicaid, or a private insurance plan they establish your cost sharing obligations.
Your payer is the best source of information on what your individual cost will be for a given service.
If you wish for Newman Regional Health staff to help you estimate your out of pocket costs, please call 620-343-6800 extension 1153 and ask to speak with a financial counselor.
This process may need to be repeated, as the course of your care and the status of your deductible obligation may change during this process.
Hospital pricing resources
These guides from the Healthcare Financial Management Association are designed to help consumers understand where to get answers to their questions about health care prices, compare prices among providers, and manage their out-of-pocket costs.
Understanding Health Care Prices
Comprensión de los precios de la salud
Avoiding Surprises in Your Medical Bills
Cómo evitar sorpresas en sus facturas médicas
Patients with health insurance
Health insurance will pay for many of your health services, but not all of them.
Begin by contacting your insurance company to understand your insurance policy's deductible, co-payment, coinsurance, and maximum out-of-pocket levels.
Double check the network status, this will help you avoid out-of-network penalties.
Obtain pre-certification or referral approvals prior to your hospital service as some insurers require this to avoid your policy's penalties and additional charges.
Insurance companies negotiate various discounts with hospitals and are not reflected in the charge list.
Patients with Medicare
Medicare will pay for many of your health services, but not all of them. Medicare does not pay hospitals based on charges, but instead pays according to pre-established rates depending on the services you receive. Your Medicare deductibles and coinsurance are also pre-established based on the services you receive.
If you have a Medicare supplemental insurance policy, it may pay all or a portion of your Medicare deductibles and coinsurance.
Special rules apply if you or your spouse has health insurance coverage through an employer.
Special rules also apply if you have coverage through a Medicare Managed Care plan.
Contact your Medicare Managed Care plan to understand your deductible, co-payment, coinsurance and maximum out-of-pocket levels.
To avoid out-of-network penalties, check to see if you are required to use hospitals that are in the Medicare Managed Care plan's network.
You can contact Medicare at www.medicare.gov.
Patients with Medicaid or Medicaid Managed Care plans
Medicaid will pay for many of your health services, but not all of them. Medicaid does not pay hospitals based on charges, but instead pays according to pre-established rates depending on the services you receive.
A few services have minimal pre-established co-pays that are your responsibility to pay. Co-pays will not apply if you are in a Medicaid Managed Care Plan.
About Standard Charges
Our Chargemaster prices are just a snapshot of prices, representing our best information at the time the pricing file was created.
Some prices listed do change periodically throughout the year depending upon market conditions. These prices are determined at the time of service.
Pharmacy prices can be volatile and can change frequently throughout the year. Prices listed on the Chargemaster are a snapshot of prices at the time of posting and can vary from what you are billed.
Because each person's health needs are different, the average charges shown will depend on the individual's specific situation. Each patient's circumstances are different, and a patient's charge will not necessarily be the same as the average charge.
 "Charge" is not the same as what you may owe. "Charge" is the amount billed for a service. A patient's amount due is based on insurance coverage, copay, and co-insurance.
All professional charges (surgeons, radiologists, anesthesiologists, pathologists, and emergency room physician, etc.) are billed separately and are not included in the average charges shown.
For Patients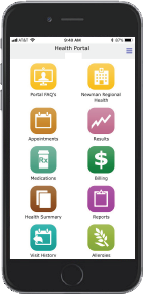 Access your health information, test results, medications, appointments, reports and more
Newman Regional Health provides access to your patient records through the use of our patient portal – MyHealth Info and a smartphone app called MHealth. You can get more information on this free service on the Patient Portal webpage – Click HERE
Important Forms:
Application for Charity Care
Authorization to release your healthcare information to other individuals, companies or healthcare providers
Newman Regional Health's Privacy Practices
Patient Rooms
Patient Room Information
Call (620) 343-6800 to find out the room number of a patient.
Children Under the Age of 12
Children age 7 to 12 years
Must be accompanied by an adult to visit.
Children age 6 years and under
Visit must be prearranged. Children age 6 and under may only visit a family member.
Newman Café
Newman Regional Health's café is located near the east lobby. Our café offers food service for patients, family, visitors, and staff. A hot food line, as well as deli, soup, and salad bar are available Monday-Friday.
Adequate seating is available in the café for patients and visitors to dine together. Visitors are welcome to purchase food from the café and take their tray to a patient's room. We are unable to include the price of café purchases on a patient's bill.
Newman Café Hours
Breakfast: Monday – Friday, 7:30 AM – 10 AM
Lunch: Monday-Friday, 11 AM – 1:45 PM
Supper: Café is closed but Grab & Go Supper Boxes are available after 4 PM daily in the Sunflower Conference Room
Snack Bar Hours
Monday – Friday, 8 AM – 4 PM
THINGS TO ENJOY IN THE SNACK BAR:
Fresh baked donuts from a local bakery
Homemade cinnamon rolls
Daily homemade baked items including pie, cookies, cake, etc.
Famous ham salad sandwiches
Cappuccino
So MUCH MORE!!!
All proceeds benefit Newman Regional Health services, equipment, and Auxiliary scholarship funds.
Gift Shoppe
We have many different ideas and gifts for your friend or loved one!
Baby Items
Handmade knitted/crocheted baby blankets, Halo® SleepSacks®, bubble gum cigars, soft plush animals, socks, and much more!
Stuffed Animals
A huge variety of stuffed animals with unique inventory.
Flowers, Plants, and Roses
We offer assorted flower arrangements, live green plants, and roses. Roses are sold as single, two, or three in assorted colors.
Other Items
Angels, Jewelry, Home decor, Snoozies, Legacy Greeting Cards, Seasonal gifts, Claey's Old Fashioned Candy, Purses
Gift Shoppe Hours
Monday – Friday: 8:30 am – 4:30 pm
Saturday & Sunday: Closed
Location
The Gift Shoppe is located in the east lobby of Newman Regional Health. Enter through the Visitors / Patient Tower entrance (Entrance F).
Order a Gift by Phone
To order an item for delivery to a patient or employee, please call the Gift Shoppe at (620) 343-6800, ext. 1172. Our Gift Shoppe volunteers are happy to place your order with a credit card and deliver it for you. We accept Visa, MasterCard, and Discover.
All proceeds benefit Newman Regional Health services, equipment, and Auxiliary scholarship funds.