Orthopedics & Sports Medicine
Phone: (620) 340-6181
Fax: (620) 340-6182
Monday thru Friday
8:00am – 12:00pm
1:00pm – 4:30pm
OrthoKansas has joined the Newman Regional Health Medical Partners Orthopedics & Sports Medicine clinic to provide Lyon County and surrounding area residents a new choice when it comes to their orthopedic care.
Read more
Orthopedics and Sports Medicine helps keep you moving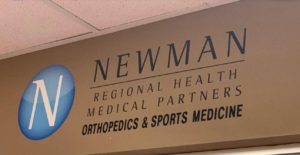 At Newman Regional Health Medical Partners, our orthopedic doctors specialize in the diagnostic, medical, surgical, and rehabilitative treatment of bones, muscles, joints, ligaments, tendons, and nerves for adults and children. They treat a variety of orthopedic conditions and injuries utilizing cutting-edge surgical procedures and non-surgical techniques to ensure the best outcomes for your condition.
From sprains and strains to torn ligaments and joint replacements, our physicians, nurses, and staff will provide you with timely and compassionate personalized care.
Whether you're a weekend warrior, a full-time athlete, or you just enjoy being active, the orthopedic specialists at Newman Regional Health Medical Partners in Emporia, Kansas can help you and your family with all your orthopedic needs. With our wide range of skills and services, including injury prevention, treatment, surgery, and rehabilitation, you can count on us to keep you moving.
We perform a comprehensive range of orthopedic treatments and surgical procedures for people with hip and knee pain, shoulder injuries, hand and wrist conditions, and some foot/ankle problems.
Common Orthopedics and Sports Medicine conditions and treatments include:
Total joint replacement

Hip, Knee
Shoulder, Elbow
Thumb, Finger

Fracture management
Sports medicine
Cartilage/meniscal transplant
Arthroscopic repair
Ligament and tendon repairs and reconstruction
Anterior cruciate ligament / ACL (knee) repair
Rotator cuff (shoulder) repair
Reverse total shoulder surgery
Elbow, wrist, ankle conditions
Ganglion cysts
Hand surgery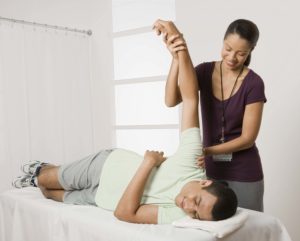 Sports Medicine
Sports Medicine has a primary focus on sports related medical services with the treatment and prevention of injuries related to sports and exercise. Newman Regional Health Sports Medicine Specialists help patients maximize function and minimize disability in order for patients to become fully active in sports, work, school, and daily activities. Although Sports Medicine seems to be specific to athletes, anyone can suffer from a musculoskeletal or non-musculoskeletal condition that requires treatment from a Sports Medicine Specialist in order to help with exercise and activity.
Examples of conditions treated by sports medicine include, but are not limited to, the following:
Concussion and other head injuries
Chronic or acute illness
Exercise prescription
Injury prevention
Recommendations for strength training and conditioning
Healthy lifestyle education
Orthopedics
Orthopedics is a medical specialty practice that focuses on injuries and diseases of the body's musculoskeletal system. This system includes bones, joints, ligaments, tendons, muscles, and nerves. Newman Regional Health Orthopedics is committed to the overall health of this complex system for their patients.
Our Orthopedic Specialists manage specific problems of the musculoskeletal system, which includes:
Diagnosis of your injury or disorder
Treatment with medication, exercise, surgery, or other treatment plans
Rehabilitation with exercises and physical therapy to restore movement, flexibility, strength, and overall function
Prevention with education, information, and treatment to prevent injury and/or slow the progression of diseases
Our providers and practitioners are dedicated to providing you with quality, compassionate care for the full spectrum of orthopedic and sports-related conditions and injuries. From nonsurgical treatments to surgical services, our orthopedic providers are among the most respected in Lyon County, Kansas.
Meet the Orthopedics & Sports Medicine Providers