Women's Life Center
We've been delivering babies and caring for mothers for over 90 years. For the staff of the Women's Life Center, the miracle of new life never diminishes. At Newman Regional Health, every delivery is a special delivery. A comfortable, home-like birthing room allows for labor, delivery, and recovery to take place in the same room.
You can rest assured that while the setting is homelike, the medical equipment and care you will receive are state-of-the-art. We believe that the birth of a baby is a very personal experience. That's why we offer options for delivery, positioning and comfort measures, anesthesia, and coaching support.
One of the first joys of parenting will be holding your baby. Infants are placed skin-to-skin immediately after delivery as recommended by the Kansas High 5 initiative. Cesarean section deliveries take place in Newman Regional Health's delivery/operating room which is located near the other delivery rooms in the Women's Life Center.
Our visitation schedules encourage family togetherness. You should work with the nursing staff to assure that the family members who mean the most to you are able to accompany you during your stay. For an hour each day we observe a "quiet time" on the unit. We encourage moms and dads to rest during this time. Open visiting hours are at the mother's discretion. For the protection of your newborn, all visitors must be free from communicable diseases or symptoms of any disease including COVID-19.
Newman Regional Health is a High 5 Facility, a program encouraging the adoption of five evidence-based maternity care practices that support breastfeeding success. We are a Breastfeeding Welcome location from the Kansas Breastfeading Coalition, Blue Distinction Center for Maternity Care, and a National Certified Gold Safe Sleep Champion.
Meet the Providers
The following obstetrics and gynecology physicians (OB/GYNs) have medical privileges to deliver babies at Newman Regional Health:
Family practice physicians who have medical privileges to deliver babies include: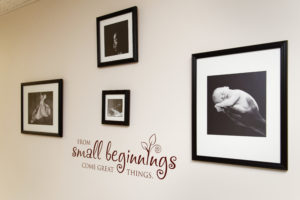 SPECIAL NOTICE:
In response to COVID-19 , we have implemented many additional safety precautions and visitor restrictions. Please read about our visitor policy by clicking HERE
WLC Heath Awareness
Avoiding Group B streptococcus in pregnancy