Central Care Cancer Center
Phone: (620) 342-1117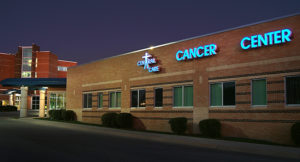 Residents of southeast Kansas rely on Newman Regional Health to connect them to the best cancer treatment center in the area – Central Care Cancer Center, where Dr. Jorge Wong provides expert radiation oncology services and Dr. Elshami Elamin provides experienced Medical Oncology/Hematology services.
Dr. Jorge Wong is an experienced radiation oncologist who has partnered with Newman Regional Health. He specializes in precision 3D treatment planning, IMRT, and intraoperative radiation treatments. He has experience with solid tumors; breast, lung, head, and neck malignancies; lymphomas; and central nervous system (CNS) tumors.
Dr. Elshami Elamin provides Medical Oncology/Hematology services with Central Care Cancer Center at Newman Regional Health. Dr. Elamin is board certified by the American Board of Internal Medicine in Medical Oncology as well as Internal Medicine. Dr. Elamin's practices include the diagnosis and management of solid and hematological malignancies including breast, lung, GI, head and neck cancers, leukemia, lymphomas.
Visit www.cccancer.com to learn more.
Meet the Providers
Elshami Elamin, MD
Claudia Perez-Tamayo, MD, FACR, FACRO
Garry Brown, MS, DO