Central Care Cancer Center
Residents of southeast Kansas rely on Newman Regional Health to connect them to the best cancer treatment center in the area – Central Care Cancer Center, where a team of cancer experts provides radiation oncology services, radiation therapy, immunotherapy, surgery, palliative care, and participation in clinical trials.
Dr. Elshami Elamin received his medical degree from the University of Khartoum. He completed both an internal medicine residency and a medical oncology fellowship at the New York Methodist Hospital, with affiliation to Cornell Medical Center, in Brooklyn, New York. He has received a Certificate of Merit for Research and Scholar Activity by the American College of Physicians.
He is board certified by the American Board of Internal Medicine in Medical Oncology as well as Internal Medicine. Dr. Elamin's practices include the diagnosis and management of solid and hematological malignancies including breast, lung, GI, head and neck cancers, leukemia, lymphomas.
Dr. Claudia Perez-Tamayo, FACR, FACRO completed her radiation oncology residency at the Medical College of Wisconsin. She was awarded prestigious fellowships to both the American College of Radiology and the American College of Radiation Oncology for her contributions and service through education, research and service activities in the practice of radiation oncology. Her academic appointments include the University of Michigan and the University of Kansas Medical Center. She participated with the American College of Radiology Commission on Small and Rural Practices, was appointed to the President's Cancer Panel and is a part of the Kansas Comprehensive Cancer Control Panel.
Dr. Perez-Tamayo is board certified by the American Board of Radiology and the American Board of Internal Medicine subspecialty of Hospice and Palliative Medicine. She has expertise in brain and body stereotactic procedures along with high dose rate (HDR) brachytherapy.
Ayesha Ahmed is a certified Physician Assistant for Central Care Cancer Center at the Emporia, KS clinic. She has a Master of Medical Science degree in Physician Assistant studies from Yale School of Medicine and a Bachelor of Science degree in Clinical Laboratory Science from The University of Kansas Medical Center. Prior to attending PA school, Ayesha has experience working as a Medical Laboratory Scientist in Microbiology and Molecular Pathology with The University of Kansas Health System. She is a sustaining member of the Association of Physician Assistants in Oncology.
Visit www.cccancer.com to learn more.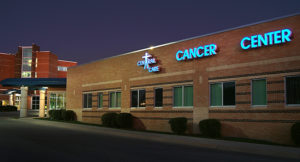 Central Care Cancer Center is QOPI CERTIFIED
Central Care Cancer Center has been recognized by the QOPI® Certification Program LLC, a wholly-owned subsidiary of the American Society of Clinical Oncology, Inc. (ASCO®), as successfully completing a three-year certification program for outpatient hematology-oncology practices that meet nationally recognized standards for quality cancer care. The QOPI® Certification Program builds on ASCO's Quality Oncology Practice Initiative (QOPI®).
"We're extremely proud to receive this certification from the QOPI® Certification Program, which underscores our continued commitment to excellence for our patients," said Alfredo Lopez, Chief Executive Officer of Central Care Cancer Center. "Having access to the highest quality of cancer care, close to home, near loved ones, is imperative when conquering cancer."
Meet the Central Care Cancer Center Providers