Resources
Latest Press Releases:
Newman Regional Health Announces COVID-19 Vaccination Plans
Lyon County to expand COVID-19 testing for limited time (Emporia Gazette)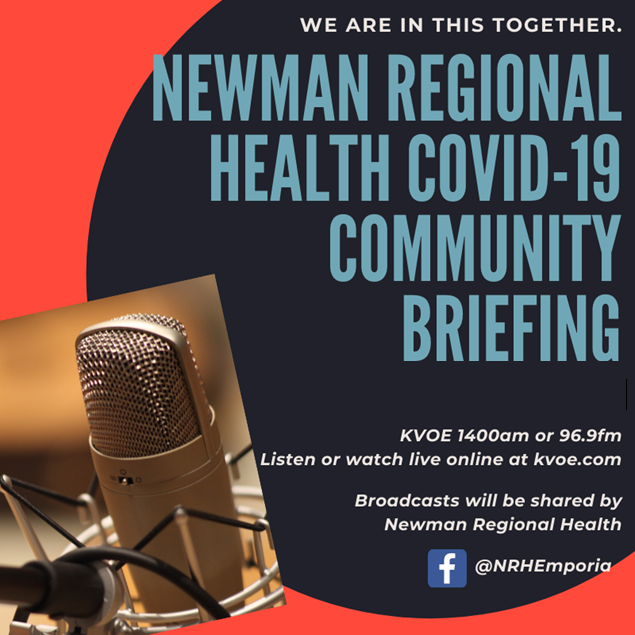 Please click below to listen to the broadcast:
Additional audio files are available from KVOE.com
Chart of active cases in Lyon County as of December 14, 2020.
For the latest reporting please click https://www.publichealth.lyoncounty.org/covid-19/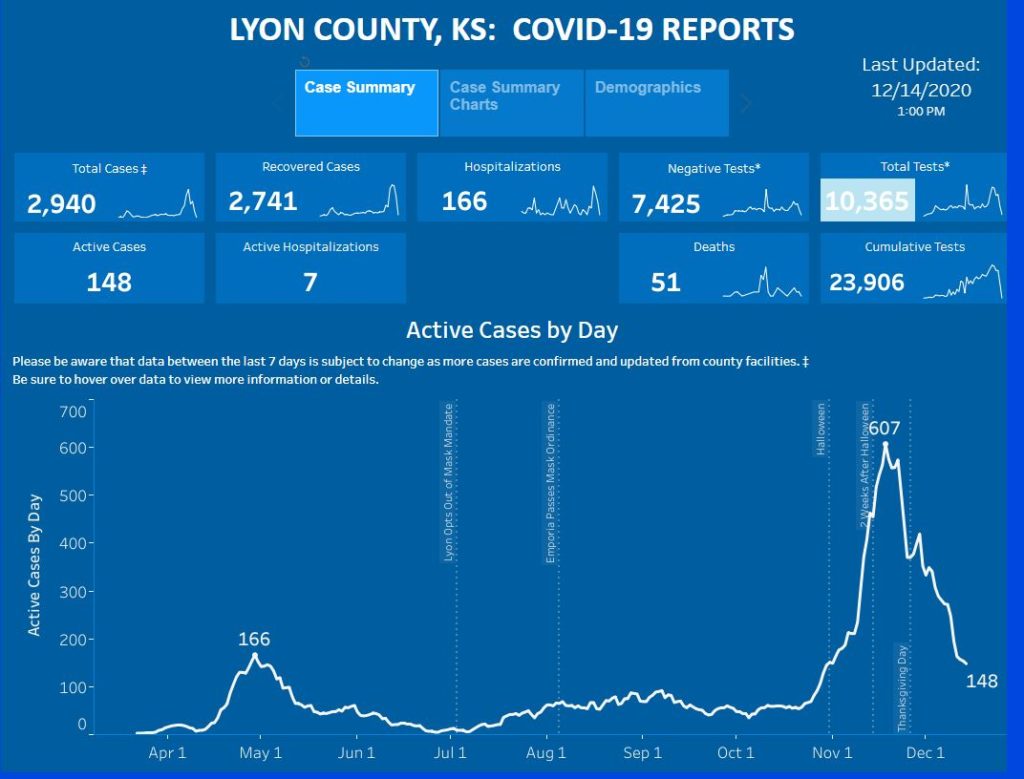 Governor Kelly Signs Executive Orders Delaying Schools, Implementing Mitigation Procedures
TOPEKA—Governor Laura Kelly today signed Executive Order #20-59 and shared the details for Executive Order #20-58. Executive Order #20-58 can only be signed if the Kansas Board of Education votes to approve her order. Executive Order #20-58 delays schools from beginning any student instruction from August through September 8. Executive Order #20-59 outlines mitigation procedures schools must take to ensure the safety and wellbeing of Kansas students and teachers. – Click for more
Governor Laura Kelly Announces Masks Must be Worn Statewide
TOPEKA, June 29, 2020 –Governor Laura Kelly today announced that she will sign an Executive Order requiring that most Kansans in a public space must wear a mask, beginning 12:01 a.m. Friday, July 3.
Under the order, most Kansans must wear masks in stores and shops, restaurants, and in any situation in which social distancing of 6 feet cannot be maintained, including outside. The EO will be released on Thursday, and will provide specific guidance regarding under what circumstances masks must be worn.
For more information on COVID-19 health guidance, please visit covid.ks.gov
COVID-19 Cases in Kansas from the Kansas Department of Health and Environment
The map is updated Monday, Wednesday and Friday by 12:30 p.m. The map contains a variety of data at the state and county level, including the Reopen Kansas Metrics. Click on the gray buttons to access the data. To maximize your experience, use a device with a larger screen, such as a tablet, laptop or desktop. The Map FAQ Document (PDF) includes detailed instructions on how to use and share the data.
Daily Case Summary & Historical Data
The COVID-19 Summary is published Monday, Wednesday and Friday at 12:30 p.m. and includes historical data. The summary is not published during holiday observances.
Newman Regional Health Medical Partners Cardiology
Newman Regional Health Medical Partners Pediatrics
Newman Regional Health Medical Partners Family Medicine
Newman Regional Health Medical Partners Orthopedics and Sports Medicine