Patient Information
SPECIAL NOTICE:
Coronavirus (COVID-19) Visitation Restrictions
To ensure the safety of our patients, visitors, physicians, and colleagues, Newman Regional Health has implemented the following visitation restrictions – click here
Visitor Inquiries and Outside Phone Calls
The patient's family, friends, clergy and others may obtain the location (room number) of a patient by calling (620) 343-6800 and asking for the patient by name.
Depending upon the patient's privacy choice to be included in the Patient Directory, information may or may not be able to be provided.
Patient Directory
When a patient is treated at Newman Regional Health they have the option of whether or not to be included in the Patient Directory as described by our Notice of Privacy Practices. (English – Spanish)
If a patient chooses to be included in the Patient Directory, their location (room number) may be provided if the patient is asked for by name. A patient can also receive telephone calls, mail and deliveries.
A patient may choose to not be included in the Patient Directory. If this option is selected by the patient, mail, flowers, gifts, cards or deliveries will be refused.
Patient information is governed by Newman Regional Health's Notice of Privacy Practices. (English – Spanish)
During this time of visitation restrictions, you always can send a free patient greeting card to a current inpatient.
Greeting cards are a convenient way of showing your support, staying in touch, and lifting spirits.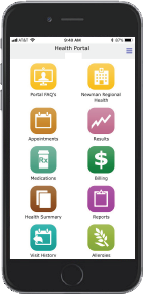 ---
Access your health information, test results, medications, appointments, reports and more
Newman Regional Health provides access to your patient records through the use of our patient portal – MyHealth Info and a smartphone app called MHealth. You can access the patient portal on the web and find more information on the MHealth App by clicking HERE.
Non-English speaking patients
Newman Regional Health is proud to offer advanced Video Remote Interpreting from Propio Language Services, LLC.
Newman Regional Health has used over-the-phone interpreting in the past but recently introduced a new feature that allows physicians to pull the translator up on video, functioning as a closer, face-to-face conversation than the telephone allows. The service, and its companion phone app is more immediate than tracking down an interpreter and in the event of an emergency, the time saved may be vital.
The service provides Video Remote Interpreting (VRI) for American Sign Language (ASL) and the most frequently-requested spoken languages including Spanish.
Interpretation services are provided at no cost to our patients.
Important Forms:
Application for Charity Care
Authorization to release your healthcare information to other individuals, companies or healthcare providers
Newman Regional Health's Privacy Practices
Download a copy of our visitors guide:
Newman Regional Health Visitor's Guide
Including floor plans and parking map.